While it's fun to meet new people instantly, dating apps are also known to have a few drawbacks. If you're wondering why you haven't gotten any interactions on your dating app profile, it's likely not your fault. You're probably experiencing some of the common problems and issues with online dating.
Problems with Dating Apps:
These days it seems more common to meet people through the screen on your phone than it is to just strike up a conversation with someone out and about in public. While the idea of meeting an endless amount of new people online may seem thrilling, it can actually come with some very real problems and common complaints from dating app users.
Whether you've been in the real-world dating scene for a while or consider yourself a seasoned online dating pro, there's always a chance that you may experience some drawbacks of dating apps. Some of the most common problems users report with online dating include:
Endless Options
People Lie on Their Profiles
Can Become Expensive
Not Always Good Timing
Mentally Draining
Problem #1: Too Many Options!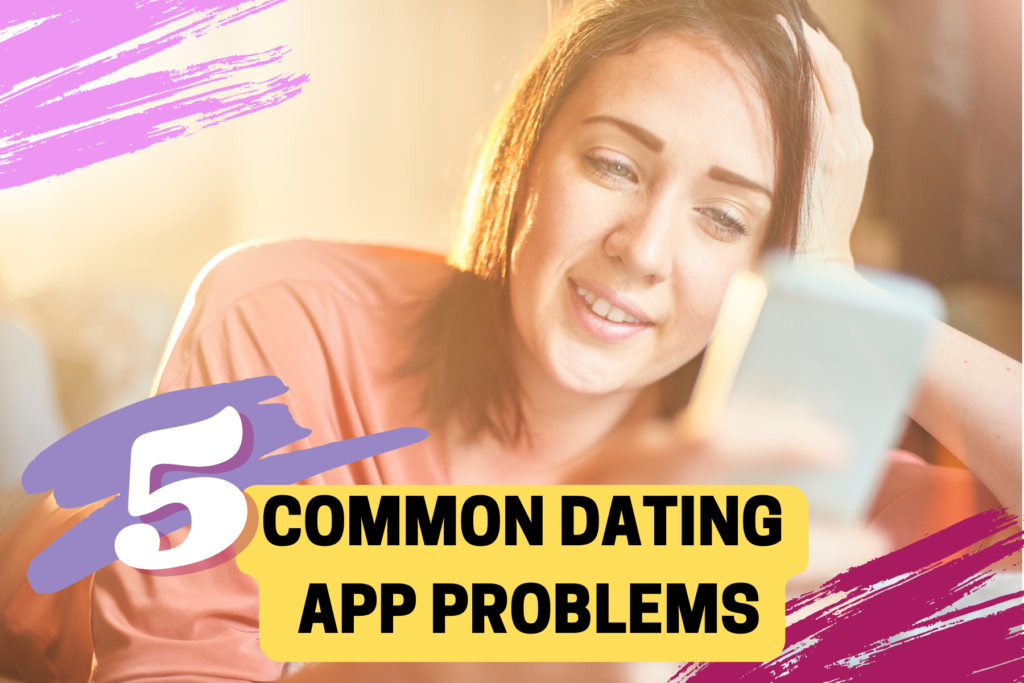 One of the many problems with online dating is that there are too many options. The number of online dating users increases every single day, making the number of potential matches you can have grow exponentially. This creates a psychological conundrum of endless potential. Therefore, you're likely to become pickier with who you match with online versus who you'd strike up a conversation with in real life.
Online daters admit to having a hard time discerning who to swipe left or right on. Rather than giving someone who might not be your traditional "type" a chance, we're more likely to reject them on the incorrect notion that with a plethora of options, you'll likely meet someone "better." This is a really big fallacy that hinders many dating app users from meeting potentially amazing partners.
Problem #2: People Lie
It's not hard to either lie or keep important personal information hidden from your dating profile. Whether you choose to tell the whole truth or half truths, there's always the chance that you'll come across someone who is lying about something on their dating profile.
Unfortunately, there is no solution to this problem. Dating sites and apps encourage users to be honest, but there are no rules on how much or how little information you have to share on your profile. A study from Pew Research Center says that 71% of users believe others lie on their profiles to make themselves seem more desirable.
Someone can be lying about a basic fact of their life like their age, for example, or something more serious like lying about what they're looking for and what their intentions are in the dating world. Worst of all, your date could be a catfish.
Problem #3: Dating is Expensive
Worse than the dating scene in real life, dating platforms can get expensive! Not only do you have traditional expenses from real-world dating (like taking someone out to dinner or drinks) but you also have the costs associated with whatever dating platform you're on!
A lot of dating websites like to promote that they are free to download, but once you register and create an account, there can be small costs associated with "boosting" your profile or "super-liking" others. Do your research and find out what additional costs you should expect with each dating platform you decide to join.
If you're running on a tight budget, check out our 14 first date ideas if you're in a pinch.
Problem #4: The Timing isn't Always Right
Unfortunately, we operate in a time-poor society. This means that people's free time is severely limited. So when it comes to online dating sites, this could mean that you match with a potential partner way later than when they originally liked your profile. Unfortunately, this could result in that person no longer being interested in your profile and choosing not to engage in a conversation.
This could also mean that you are waiting in limbo in someone's match queue if too much time has passed. Unfortunately with the way today's dating apps are designed, there's no definitive way to know when someone has liked your profile.
On the flip side, you could've fallen head over heels for someone's profile but never matched until weeks if not months afterwards. By then, you could've totally forgotten about them and have seen plenty of other people in the meantime. Unfortunately timing is everything and sometimes it just doesn't work out.
Problem #5: Mentally Exhausting
One of the biggest problems with online dating is that it is mentally exhausting. This issue has negatively impacted the majority of men and women's mental health, and the numbers are staggering. In fact, 48% of online daters feel frustrated by using dating apps. Romantic relationships take time and effort to cultivate, and it can be really frustrating when trying to get to know people and them not giving you the same level of effort and respect in return.
It's well-known the negative side-effects online dating can have on people, so consider taking breaks, meeting people in public places you frequent, and even discussing your dating experiences with friends on social media. This way you have healthy outlets for sharing your frustrations and possibly finding creative solutions and ways to cope.
Why is Online Dating so Difficult?
Online dating is not always what it's cracked up to be, especially for those who are sensitive, introverted, or in any way self-conscious. Someone you're messaging can quickly say the wrong thing, do the wrong thing, or perhaps worst of all, ghost you altogether.
In today's world, people are extremely accessible, yet, critically lacking in communication skills and social etiquette. Instead of confronting what might become a potential problem like an adult, people would rather "ghost" or cut off all ties of communication to leave you wondering "what happened?" instead.
Online dating is not easy, but though it has its difficulties, it shouldn't feel like a second job, either. Pay attention to the users who respect your boundaries, your time, and put in effort to get to know you. These are the users who will likely make a good match for you.
Closing
Online dating apps and websites certainly come with their lists of pros and cons. No matter who or how you date, virtually or in real life, it's important to keep yourself safe. Don't give away personal details too quickly and always let someone close to you know what your plans are.
If you're in need of a safety refresher, check out the other dating safety pages on datingsafetytips.com.