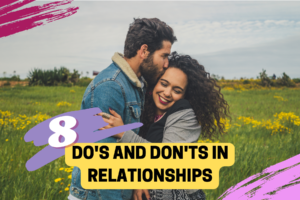 Starting a new relationship is an exciting time. All that effort spent on dating apps and putting yourself out there on the dating scene has finally paid off. However, it can be easy to let excitement, as well as insecurities, take over in the beginning stages of a new relationship. Take a look at these 8 relationship dos and don'ts.
8 Do's and Don'ts Of A Relationship
1. Do Plan Fun Dates
Avoid doing the same thing over and over for each date. When you are still getting to know your new partner, spend time going on a variety of different dates. Doing this will help you see how your dynamic is in different situations, get to know them better, and try new things! Keep an open mind when planning new activities.
2. Don't Wear Rose Colored Glasses
In a new relationship, people tend to only see the good qualities of their new partner. However, you are still getting to know them, so it is important to keep an eye out for red flags. Try to not put your partner on a pedestal – you can't see red flags while wearing rose-colored glasses!
3. Do Know What You Want
Be honest with yourself about what you want. Ask yourself what kind of relationship you want and what you expect from a romantic partner. Make sure you don't waste your time in the wrong relationship.
4. Don't Text Them Constantly
It can be confusing to know how often to text in the early stages of a relationship. If you are constantly glued to your phone to text them at all hours of the day, that's a sign that you are texting too much. Communication is important in relationships, but you still need space to live your own life. Save most of the talking for your dates.
5. Do Enjoy The Moment
The honeymoon phase of a relationship is a great time full of fun and possibilities, so enjoy this time getting to know your new person. You may have a lot of relationship fears, but try to put those aside and live in the moment.
6. Don't Ditch Your Friends And Family
It is easy to just want to spend all of your free time with your new partner. However, you still should make time for the other people in your life. Your new relationship may or may not last, but your friends and family will always be there.
7. Do Develop Healthy Communication
Learn how to communicate with your new partner in a healthy way. On the list of do's and don'ts, this is perhaps one of the most important. If something is bothering you, be open about it and talk to your partner instead of letting resentment build. Try to understand your partner, and don't expect them to read your mind.
8. Don't Compare Them To Your Exes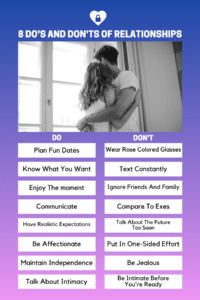 At some point, most new couples will probably talk about past relationships. It's healthy to talk about the past, but do not compare your new partner to your former partners. This can make them feel insecure and think you may not truly be over your ex-boyfriend or girlfriend.
9. Do Have Realistic Expectations
Neither you nor your partner are perfect people, and you can't expect the relationship to always be smooth sailing. You are probably going to disagree about things, and that is okay! This is why empathy, compromise, and boundaries are essential.
10. Don't Start Talking About The Future Too Soon
You may think this is the most amazing person you have ever met, but it is important to still take things slow, and not rush a relationship. Don't start thinking about your future together until you are both ready. Remember, if they are truly the one, they aren't going anywhere.
11. Do Be Affectionate
Being affectionate with each other helps you bond as a couple. Instead of playing hard to get, don't be afraid to show your partner some attention! Little things like cuddling, holding hands, and eye contact goes a long way.
12. Don't Always Be The One To Initiate
Make sure that you aren't always the one to reach out and plan dates. Your new partner should be reciprocating the amount of effort you are putting into a relationship.
13. Do Maintain Independence
In a new relationship, you need to still stay true to who you are. Make sure you still have time for the activities and hobbies you enjoyed during your single time.
14. Don't Be Jealous
There are a lot of reasons you may feel jealous at the beginning of a relationship. Often, jealousy comes from a place of anxiety and low self-esteem. It is important to get to the root of your jealous feelings and find ways to deal with them instead of taking it out on your new partner.
15. Do Talk About Sex
It is a good idea to have an open conversation about sex before you have it with your new partner. Discuss things you like, talk about insecurities you have, and talk about the pace of your relationship in terms of intimacy. Of course, you should also talk about sexual health and STIs as well. It may feel like an awkward conversation, but you probably aren't ready to be intimate unless you are comfortable talking about it.
16. Don't Be Intimate Too Soon
There is no set timeline, but you and your partner should not be intimate until both of you are 100% ready for it. If you start feeling like you should have sex with them in order to maintain their interest, this is a red flag, and you should leave. The right partner will never pressure you into intimacy.

In Closing: Relationship Do's and Don'ts
Follow these 8 relationship do's and don'ts to make sure you have a healthy relationship with your new partner. For more information about online dating safety and healthy relationships, check out our growing resource of Dating Safety Tips.