Even when it comes to online dating, if something (or someone) seems too good to be true: it probably is. In a survey discussed by Ryan Anderson Ph.D. for Psychology Today, 53% of respondents admitted that they have lied or otherwise exaggerated certain details about themselves on their dating profiles. While exaggerations on a person's dating profile are to be expected, faking an entire identity, or catfishing is not. Yet in 2018 alone, more than 18,000 people fell victim to catfishing, according to reports made to the FBI.
Before you get caught drifting away on cloud nine, it's important to make sure that your dream man or woman is who they say they are. With the consistent rise in catfishing cases from year to year, this problem has only continued to get worse over time. That's why it's so important to look out for the warning signs that you are being catfished on a dating app or website.
What does it mean to be catfished?
Catfishing is a romance scam that involves an individual presenting a false identity online in order to communicate with or pursue a relationship with people who are looking for love on the internet. Coined by the Catfish documentary and made popular by Catfish: The TV Show, catfishing generally involves using the photos, videos or other personal information of another person who is not involved in the situation at all. Although catfishing scams often involve an attempt to solicit some sort of financial gain, this is not always the case. Sometimes, a catfish may launch their scheme as a form of revenge, either on the victim pursued or on the person whose identity the catfish has stolen for online dating purposes.
Clues You Are Being Catfished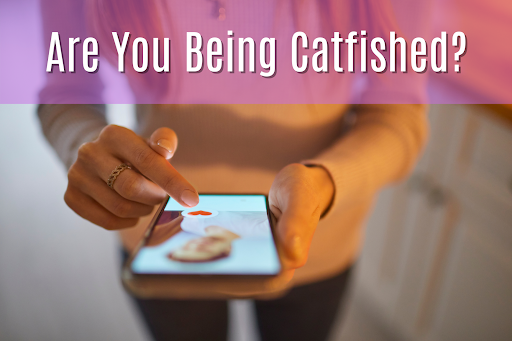 Today, we'll be taking a look at some of the top warning signs to look out for if you think that you are talking to someone who is a catfish, or if you suspect that you are being catfished. Keeping these signs on your radar can help prevent you, or someone you know, from falling victim to a catfishing scam.
They Refuse to Talk on the Phone or Video Chat With You
It's safe to say that today, everyone has a cellphone. Not only that, but most people carry and use a smartphone every single day. And the proof is in the statistics! In 2022, there are 6.648 billion smartphone users worldwide, making it more common for someone to have a smartphone than to not. Afterall, if you're talking to someone on an online dating app or site, it's fair to assume that this person is using a smartphone or similar device to communicate with you. So if your phone calls are being declined or this person refuses to video chat with you — that's a red flag! This is a plausible reason to assume that they may have something to hide.
They Only Have Professional Photos on Their Profile
No candids? No selfies? Uh oh! You might be talking to a catfish…
Hey, we don't mean to burst your bubble. But if your prince or princess charming from an online dating site happens to be ridiculously good looking, you might want to have your guard up. While it is totally possible to meet an attractive person online, there is something suspicious about a person who only seems to post professional quality pictures that appear to be from a modeling shoot of some sort. If they don't have any candid shots or selfies on their profile, or if they never send you an in-the-moment selfie, you might be talking to a catfish.
They Ask You to Send Them Money
Sure, everyone falls on tough times. But if someone who you've never met in person is asking for money from you, you should be suspicious! If your new online beau is asking you for money, it's time to be on alert. They may attempt to reel you in with a sob story to make you believe that they really need the money. But make no mistake: this person is attempting to scam you and you should NOT send them any of your hard-earned money!
Their Social Media Usage is Minimal
When talking to someone on a dating app or site, you may be tempted to take the conversation elsewhere off of that platform. This is perfectly normal in situations where you are truly attempting to get to know the person better. But if your online partner tells you that they don't have any social media accounts, you should not believe them. Afterall, they are on a dating site, so why wouldn't they have social media? Alternatively, it is also a red flag if this person does have social media, but the profiles appear to be very new or don't contain a whole lot of activity. (Pro tip: take a look at who comments on their posts. Do their "friends" seem real?)
They Claim to be Traveling or Working in a Foreign Country
Okay, so not everyone who travels is a con artist. Plenty of people travel for work. But if your online partner claims to constantly be traveling, you should be on high alert. It is possible that he/she is claiming to travel simply so that you will not be suspicious of their detected location, which is likely where they actually live.
Their Photos Come Up on Google Reverse Image Search
The easiest way to find out whether or not you've been catfished is to look up your partner's photos on Google Reverse Image Search. Using this free tool from Google will help you to detect the origin of any photo submitted into the Search. If your new online beau's photos are linked to someone else's profile or posted elsewhere on the internet, it's safe to assume that he/she has stolen these photos in order to create their false online dating persona.
They're Moving Way Too Fast
If someone who you meet on a dating site says that they care about you, "love" you or otherwise start to act like the relationship is getting serious within just a couple of days or even weeks of meeting you online: you might be dealing with a catfish! People who perpetrate catfish scams feed on a person's desire for love, attention, affection and romance. This is why they often gravitate towards people who are looking for a serious relationship. A catfish will play on your eagerness to be in a relationship by pushing the union between the two of you forward, fast — even when they hardly know anything about who you are as a person, or what you enjoy in life.
Bonus Sign: They Are Pursuing You Romantically On Social Media
This particular warning sign applies to people who are not actively pursuing a relationship on a dating website or app. If you are not on a dating site, but find yourself contacted by someone on social media who you've never met before, they might be gearing up to lure you into a catfish scam! They may try to win you over with messages of flattery and unexpected, out-of-the-blue flirtatious chat. But before you start to feel special and seen, ask yourself why is this person contacting me? If you accept a friend or follow request from someone who immediately tries to start talking to you in a relationship-provoking manner: beware.
In Conclusion: Look Out For the Catfish Warning Signs
Now that you know what to look out for, we hope that you will be able to avoid being catfished in your online dating pursuits. Remember: if something doesn't seem right to you about your new special someone, then something isn't right! Keep your eyes peeled for all of the warning signs that we've mentioned in this article so that you can keep from being scammed (or heartbroken) by an online suitor who isn't who they say they are. If you'd like to share your own catfish warning signs or dating safety advice with others, be sure to contact Datingsafetytips.com.