While dating apps aren't for everyone, they do help people find relationships and romance. Dating apps offer many new and exciting opportunities for romance, but they do have some drawbacks. Suppose you're weighing the benefits and disadvantages of using apps like Tinder, Bumble, Seeking, or Hinge. In that case, there are some things you should definitely know and be aware of – particularly if you're new to online dating. Here are the top pros and cons of dating apps.
Pros Using of Dating Apps
Dating apps provide a lot of benefits to dating and romance. Here are the pros to use dating apps.
You'll Meet Interesting People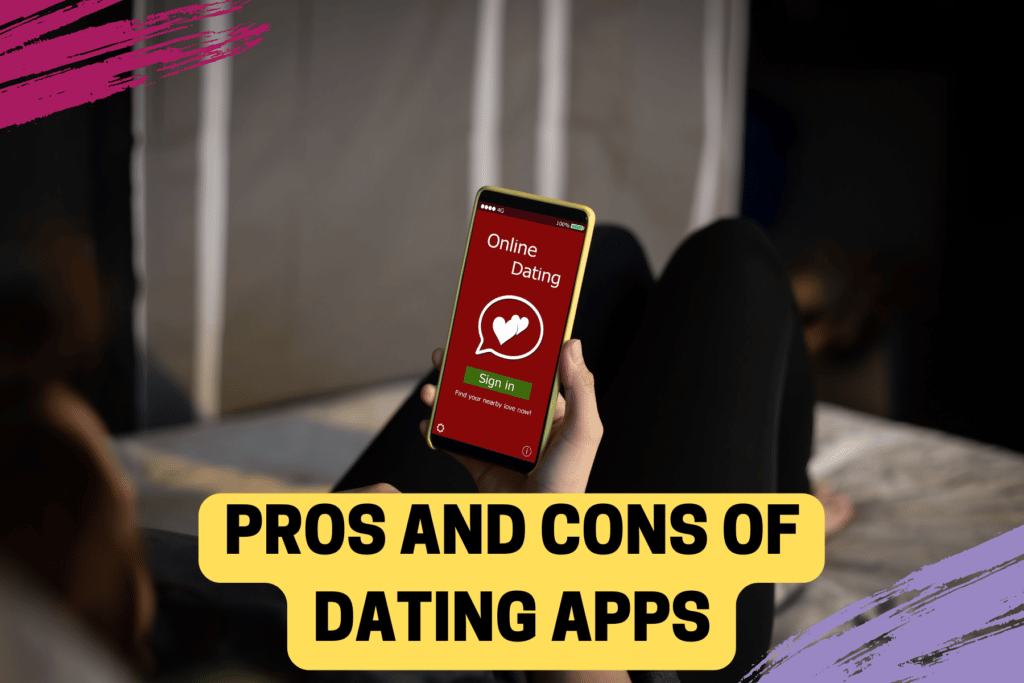 Dating app technology makes it much easier to find people compatible with you, and someone you have a common interest with. People from all over the world with a wide variety of hobbies, occupations, interests, personalities, and more use dating apps. Many unique and fun experiences start in online dating apps, and you may even gain some lasting relationships, platonic or romantic, with incredible people.
Many Modern Relationships Form Online
Online dating is so commonplace now that there's no reason to be shy or embarrassed about it. Nearly everyone has either tried online dating, is currently using a dating app, knows people who date online, or knows a loving couple who met online.
It's Ideal for Introverted or Shy People
Online dating helps alleviate some of the stress and anxiety involved with trying to meet people in person. You can slowly become comfortable with someone by getting to know them through instant messaging or video calls and eventually work your way up to meet face-to-face.
Enhanced Safety Protects Users from Unwanted Conversations or Interactions
When weighing the pros and cons of dating apps, safety tops the list as being the biggest concern. Online dating has evolved to have strong safety measures to protect its users, particularly women, from unwanted or potentially harmful interactions, including blocking, reporting, and notifying friends of date times and locations.
Cons
While there are a lot of advantages to online dating, there are also many cons and drawbacks to using dating apps. Here are some of the top drawbacks of dating apps and what to know about them.
Online Dating Profiles Can Have False or Misleading Information
One of the most common disadvantages of dating apps is that people are sometimes dishonest on their profiles. Most of the time, this is harmlessly embellishing, but some people make up entirely fake profiles or even steal identities to trick people for various reasons. This is something to be wary of when you use online dating apps.
It Can Be Overwhelming
Online dating has grown dramatically in the usership over the past several years, and with that, there are several apps to choose from. Online dating apps provide many opportunities, but it can be overwhelming to use at times, particularly for new users. It's difficult to know which apps are the best for you, how to utilize the features effectively, how to stay safe, and more.
There's a Risk of Scams and Cybercrimes
One of the riskiest disadvantages of dating apps is the chance of falling victim to scams or other cybercrimes. With the increase in safety and security protocols in most online dating companies, the risk of this happening has decreased substantially over the years, but it's still an issue that could impact you.
Negative First Date Experiences
When you finally meet someone from an online dating app in person for a date, you may have some negative experiences, such as a lack of chemistry, realizing the person wasn't exactly as they presented themselves online, and even feeling stalked or threatened. To prevent stalking from happening, be sure not to give away too much personal information too early on in the relationship, whether it's through messaging on the app or on the date.
Takeaways: Pros & Cons of Dating Apps
Ultimately, most people will agree that the pros of using online dating apps outweigh the cons. Many relationships have started from online dating; however, you should be aware of the cons of using dating apps and the negative effects or outcomes that come with meeting strangers online. We hope this helps you find a relationship online and stay safe.