Using dating apps and going on dates with someone new can be an exciting adventure, but it's easy to let warning signs of something fishy go right over your head. While getting to know your new date, be on the lookout for red flags in their behavior and communication.
Unfortunately, over 32,000 reported falling victim to dating and hookup scams in 2020 alone, simply because they were looking for love. It can be hard to discern fact from fiction especially when communicating mainly online or over text.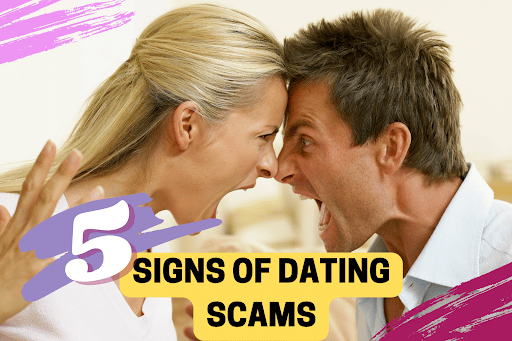 Today we're sharing the top five signs of dating and romance scams that you should look out for in your dating life.
Signs You're Dating a Scammer:
Dating and hookup scams are unfortunately nothing new. What is new, however, are the methods used in order to initiate such dating scams. With the rise in social media sites, online dating, dating apps, and instant messaging, some dating scammers have become quite famous online for their criminal behavior.
These scammers are primarily motivated by money. So much so, that one romance scam victim shares her story on how she was scammed out of $2 million, her entire life's savings. Most victims are scammed around $2,500, according to the FTC. Not only do these scammers plan on bleeding their victims dry, they also cause damage to the victims' relationships with friends and family members, too.
Some scammers are interested in a short-term scam while others are in it for the long-haul. Most dating scammers attempt longer term scams with small amounts of monetary gain along the way in order to show their "commitment" to the relationship.
Signs to look for:
The signs are usually pretty clear that someone has ill-intent in terms of dating, but oftentimes victims are vulnerable and sensitive people, and tend to disregard or ignore the signs for the sake of keeping their connection with someone.
That being said, here are the top signs of an online dating scammer to look out for.
Pushing communications offline quickly
Making lots of promises but not following through with them
Asking for help in the form of money, financial information, or joint bank accounts or credit cards
Pushing you away from close friends and family
Common Tactics
Common tactics for romance scammers typically include:
identity theft to appear more trustworthy, attractive, and responsible,
using false information and fake profiles to add to their "legitimacy,"
using tactics like love bombing to accelerate the relationship quickly in order to discuss financial information.
What to Ask a Romance or Hookup Scammer
It's disheartening to feel like your partner is not who they originally told you they were. It's never wrong to trust your gut and ask follow up questions if you think they are being dishonest with you.
Maybe they always have a story explaining their mistakes or lies, or maybe they question you for asking them questions. Either way, their answers to the following questions will be very telling of their true motives.
Questions to Ask Scammers
Here are 3 questions to ask your partner if you think you're dating a scam artist:
Why do you need me to send money to you?
Why can't I find information about you online?
How long were your previous relationships, and why didn't they work out?
Signs of a Dating or Romance Scam
Still wondering if they're too good to be true? Here are five common signs you might be falling victim to an online dating or hookup scam:
It's too good to be true
Their story isn't adding up
Conflicting information online
They never follow through on promises
They ask for money
#1: It's Too Good to Be True
Armed Forces veteran, active volunteer, loves children and pets, and is dashingly handsome? If you're talking to someone online that seems to have every accolade possible, you might feel like you've won the dating jackpot.
Perhaps they claim to share every hobby you do. That's great, right? Well, maybe not. If it feels too good to be true, chances are, it likely is. It's a good idea to cross-check your date's name on search engines and social media sites to get a better picture of who they really are.
If you can't find them online or they use the same photo over and over again with only a few friends/connections online…that's a major red flag that they aren't who they say they are.
#2: Their Story Isn't Adding Up
Have you caught your date in one seemingly unrealistic situation after another? They apologize for not being able to do something for the millionth time because they fell off their roof the same week that their pet was hit by a car and their grandparent passed away?
Let's be honest. The likelihood of any of their stories being real is very slim. Take what they say with a grain of salt, and try to fact check as much of it as possible. Watch out if they get defensive or worse, accuse you of not trusting them if you try to do your own digging.
#3: Conflicting Information Online
Let's say they told you their name was Jack, which they say is short for Robert, but you can't find any information on a Jack, Jackson, Rob, Bob, or Robert with their last name online. Chances are, they're either stealing someone else's personal information, or falsifying their own. You can try to reverse image search their profile photos on Google to see if their photos are attached to other names and users online.
Another tip is to search their phone number online and see what name is associated with it. If it doesn't match who you're speaking to then they have a lot of explaining to do.
#4: They Never Follow Through on Promises
Did they promise to pay you back for the money you spotted them last month? Or maybe they said they were going to meet your family at their 4th of July cookout only to have something come up last minute? Real dating scam artists like to keep their victims on a thin line, dancing ever so gently on and off of it whenever it pleases them.
If you find that your partner is constantly flaking on promises and plans, it's not only a huge dating red flag, it's a serious sign that they're trying to scam you.
#5: They Ask For Money (Often)
Online dating sites are generally pretty good at scanning messages for conversations about exchanging money, as this is often a violation of the terms of service.
Instead, your date might try to quickly take the conversation offline in order to message you privately about money. For example, they might bombard you with compliments and how you're the perfect person for them, but complain that they live very far away and would need a money wire transfer in order to afford a flight to see you.
Maybe they guilt you into feeling bad about your financial situation that you feel you are their only choice for help. Either way, you'll know you're dealing with a dating or hookup scam artist if they try to entice you to give them money.
How to Report a Dating Scam
If you think you are being scammed, then you should take action immediately.
Those that are victims of a dating scam can report it to the FTC at ReportFraud.ftc.gov. You should also take the precaution of notifying the dating app that you used. 
Most Famous Online Dating Scams:
Here's a list of online dating and hookup scammers that infamously left their mark on hundreds of victims across the world:
Closing: Dating Scams
Don't always take someone's word to heart. Spend some time in the early stages of dating to fact check things you think your date might be lying about. If you're in need of a safety refresher, check out the other dating safety pages on datingsafetytips.com.