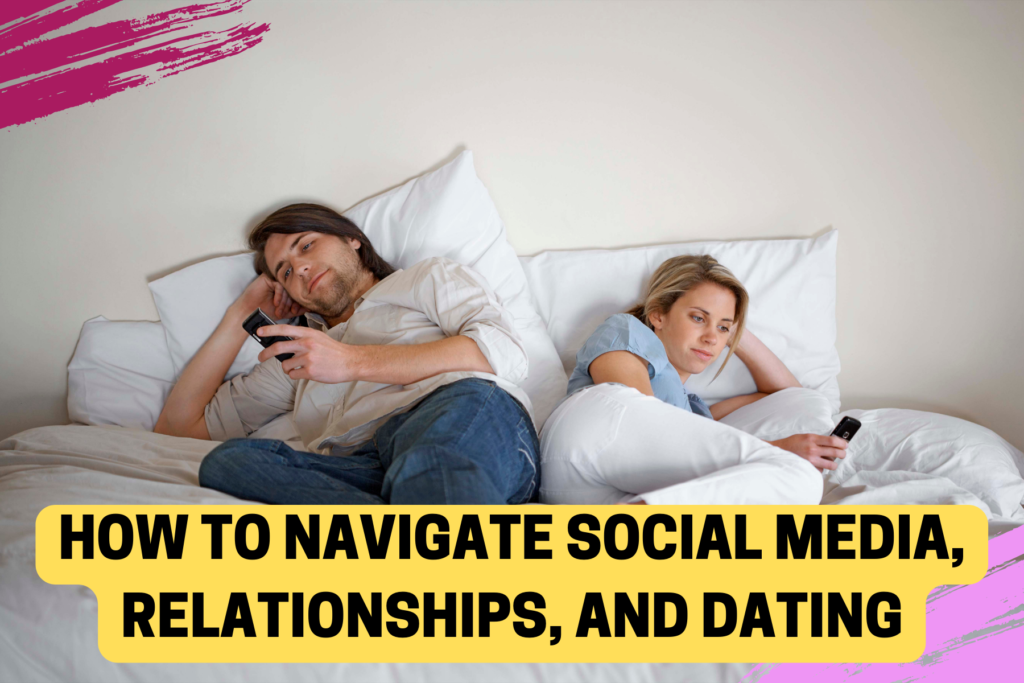 Social media use has become a huge part of modern life that has the potential to affect every aspect of our lives – including dating and relationships. Did you know that the average American gets about 7 hours of screen time per day? As a relatively new concept, we are still learning about the long-term effects that social media is having on society. Navigating social media in terms of dating and relationships can be tricky, so check out this guide for some advice.
How Does Social Media Affect Relationships?
Remember that social media platforms are tools, and every tool can either help you or hinder you depending on how you use it and what you are using it for. Social media can both positively and negatively impact your romantic relationships and dating life.
Negative Effects Of Social Media
Unrealistic expectations. Most people only post about the good things going on in their lives and omit the bad. It isn't authentic to real life, and this can give viewers a skewed view of how they think their life and relationships should be.
Jealousy. Social media use can give you a severe case of FOMO (Fear Of Missing Out), and can also make you unnecessarily suspicious of your partner.
Oversharing. These platforms can prompt people to broadcast every little detail about their lives to the world, which they may regret later. Too much social media use can also make you more narcissistic and give you a feeling that your whole life is a performance for social media.
Escapism. Scrolling through your social media accounts on your phone gives you an easy break from reality, especially if things aren't going well. If you and your partner are having issues, you may be tempted to use social media to avoid confrontation.
Feeling Disconnected. Even though social media is meant to connect us, it can have the opposite effect if it's taking quality time away from your partner.
Mental Health Problems. Too much social media use is linked to worsened mental health and body image issues, which can severely impact your relationships with others.
Addiction. These apps are designed to keep people on them for as long as possible, especially since the invention of endless scrolling.
The Grass Is Always Greener. Social media, and especially dating apps, gives us the sense that there is always a better option out there. This can lead people to avoid fixing any issues they are having with their current partner in favor of a fresh start.
Positive Effects Of Social Media
Despite the many negative effects, some of the positive effects that social media has on relationships include:
Dating apps make it easier than ever to actually meet someone. You don't have to rely on meeting a new partner through your existing social network or randomly out in public.
Taking a look at a new partner's social media can give you some sense as to their interests, personality, and who their friends and family are.
Social media makes it easy to stay connected to people that you don't see on a regular basis. Couples who are either in a long-distance relationship or physically apart for a period of time can easily stay in touch.
Posting photos of your activities together is like the modern-day version of a scrapbook, so you'll have lots to look back on in the future.
Sharing some important relationship milestones on social media can be good because your friends and family can join in on the celebration.
5 Signs Social Media May Affect Your Relationship Negatively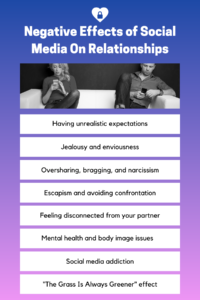 You and your partner just sit next to each other in silence, scrolling endlessly on social media. Many couples can bond and share humor by sending each other silly videos and memes. However, if it's taking time away from spending intentional, quality time together, stop it and go on a phone-free date.
You are still friends with your exes. Obviously, there are exceptions to this, but social media can make it too easy to stay in touch with everyone you have ever met. Continuing to follow your ex on social media can be like leaving the door open for them to come back into your life, especially if you are always viewing, liking, and commenting on each other's posts. Be honest with yourself about why you are still in contact with them.
You take the Facebook relationship status too seriously. Are you focusing too much on how your relationship is perceived by the outside world? Is part of you trying to one-up all those people from high school who seem to already be in the perfect marriage? Focus on how your relationship makes you feel, not on how it looks.
On the same note, we all know a couple who posts every single detail of their relationship online – to the point where it's mostly just bragging. Oftentimes this can be a mask for the true problems going on. Even if your relationship is great, it is important to keep some things just between the two of you to foster intimacy.
You feel insecure more often than not. Social media use leads to insecurity on so many levels. You may feel like your life doesn't live up to the Pinterest-Perfect pictures you see online. If your partner is spending a lot of time on their phone, you may start to get suspicious of who they're talking to.
Tips for Social Media and Relationships
Think Over What You're About To Post
Be honest with yourself about what your intentions are behind your post. This goes all the way from making mushy posts declaring your love for them all the way to starting passive-aggressive arguments to posting a revealing swimsuit pic. If you're trying to make your partner jealous or other people envious of your relationship, maybe don't.
Check With Your Partner Before Posting
Check in with your partner about what your social media boundaries are. One person is usually a bit more private about their life than the other, and your partner may not appreciate having everything plastered online for the world to see. Refrain from having personal conversations via the comments section. If you are still friends with your ex online, ask your partner how they feel about it and take their feelings into consideration.
Monitor How Much Time Is Spent On Social Media
Make sure you're balancing scrolling time and quality time with your partner. We're all a little guilty of too much social media usage. Often, our phone is the first thing we look at in the morning and the last thing we look at before going to bed. Put the phones away for a while each day and focus on each other.
These apps are designed to be addictive, so it might help to do a social media detox or use blocking apps if you're finding that you keep getting sucked into social media.
Don't Snoop Through Your Partner's Social Media
While you and your partner should be open and honest with each other, you are both still entitled to your privacy. It's hard to understand someone's intention in an online post, so be wary of making assumptions and reading too much into your partner's interactions on social media. You should also avoid stalking them through social media and keeping constant tabs on them.

Closing
Navigating dating, relationships, and social media can be challenging. Follow this guide so you don't let social media come between you and your partner. For more advice on dating and relationships, visit our growing resource of Dating Safety Tips.