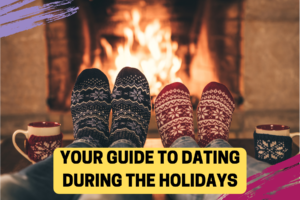 The winter holidays are rapidly approaching, and that means cuffing season is here! Cuffing season refers to the time of year when the carefree summer days are long gone, and people are looking to get into a relationship in the colder months. Whether this leads to a long-term relationship or not, people tend to feel a little more conscious about their singledom this time of year.
Dating during the holidays can be super romantic. However, with all of the family gatherings and stress that the holidays can bring, dating can be tricky – especially in a new relationship. Take a look at these ten tips to navigate dating during the holidays.
10 Tips for Dating During the Holidays
1. Try Not To Hibernate
With longer nights and a biting chill in the air, the winter blues can get the best of us this time of year. If you're feeling more tired than usual, it can be really easy to just wrap up under a blanket and stay inside. However, if you are single and ready to mingle, you're going to need to do some actual mingling. Whether it's through online dating or meeting people organically, put yourself out there.
2. Attend The Holiday Parties
A great way to stay out of hibernation mode and potentially meet other singles is to go to all the fun holiday parties going on at this time! Whether you are attending a Friendsmas party or going for a festive night on the town, now is the perfect opportunity to don that red ensemble and strike up a conversation.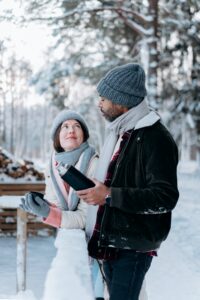 3. Embrace The Holiday Spirit
No need to wrack your brains for cute date ideas at this time of year! Romance is in the air, and there are so many fun festivities to take part in. Grab a hot chocolate and go ice skating, attend a Christmas market, or cozy up and watch your favorite holiday movie.
4. Take It Slow
With the romance of the season, it can be tempting to rush into things with the person you've just started dating. Especially with all the family events going on, it's easy to move too fast and meet each other's families when you aren't really ready for it yet. Don't set yourself up for post-holiday heartbreak.
5. Don't Go Crazy On The Gifts
If you have just started dating someone before the holiday season, you may feel pressured to splurge on gifts. However, overdoing it can actually scare them away if the gift implies a higher level of commitment than you are ready for. Smaller romantic gestures that show you are thinking about them are key.
6. Avoid Snowglobing
Snow globing is a worrying dating trend where your new partner sweeps you off your feet with the romantic festivities of the season. The relationship feels more committed than it actually is, and once the season is over, they withdraw or break up with you. Have a check-in with your partner before the holidays arrive.
7. Now Is Not The Time To Settle
We know, the pain of loneliness has an extra sting during the holiday season. A negative effect of cuffing season is that not being in a relationship can be so painful that people are more likely to settle for anyone available. Don't hang on to someone you aren't compatible with just to have a significant other around.
8. Do Not Reach Out To Your Ex
Nostalgia is a powerful feeling that tends to set in around the holidays, especially if you're visiting your hometown. Even if you are feeling the pain of singledom, don't pull a Jacob Marley. There is a reason it didn't work out with your ex before.
9. Go Easy On Yourself
Single-shaming during the holidays is so real, and it sucks. Friends and family you haven't seen in a while might be hounding you with questions. This can even leave you feeling embarrassed, especially if you've been doing your best to find that special someone. If you're feeling down about this, try to focus on all the other things in life that fulfill you.
10. Don't Give Up On Dating
If you are stressed out about dating during this time, don't throw in the towel. Navigating your dating life during the craziness of the season can get to us all. It's okay to take a break if it all feels a bit too much, but don't give up hope. That special someone could be right around the corner.

Closing Out: Dating During the Holidays
Cuffing season can be treacherous, so follow these tips to navigate dating during the holiday season. For more advice on datings apps and relationships, visit our growing online resource of dating safety tips.