In the era of social media, it is no wonder that more and more people are using the internet to date. Dating websites are a fantastic way to meet new people. In 2017, as many as 39% of couples surveyed said they had met online. That number is expected to increase in the coming years, so online dating is here to stay.
Despite its popularity, there are still some dangers involved with online dating. Before the internet, people would normally find a partner through friends and family or other social activities. When you are on a dating app, there is no social vetting process for the people you match with, so there is always an element of 'stranger danger' involved.
Dangers Of Online Dating
Online dating can be a fun experience that leads you to your perfect match. While you are having fun, it is important to keep in mind that there are some risks to online dating. Knowing how to stay safe can prevent you from getting into dangerous situations.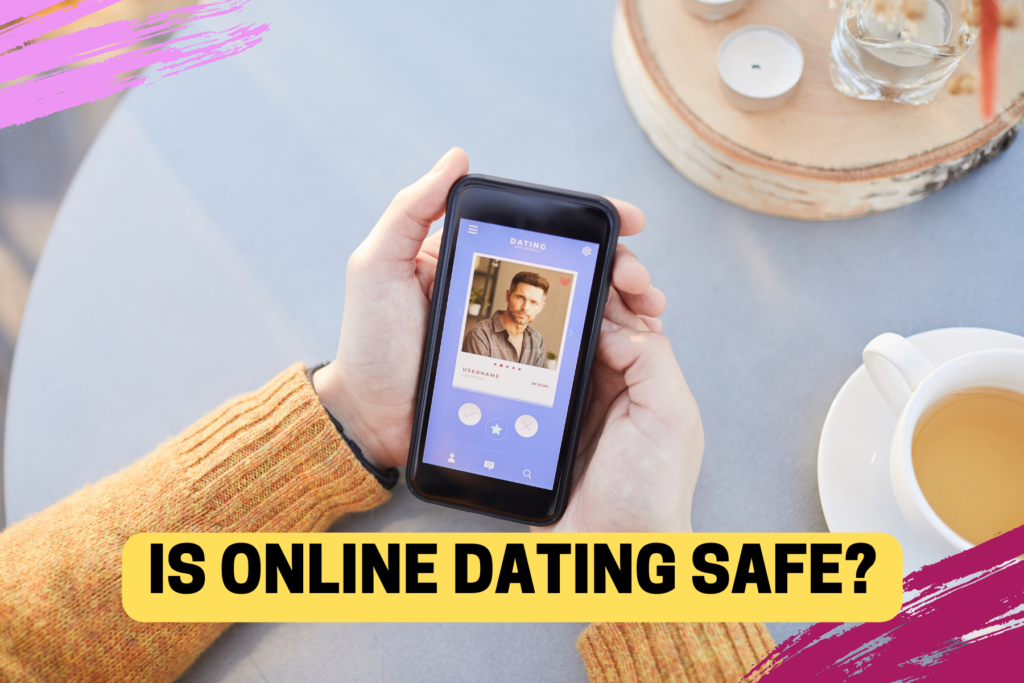 Some of the risks of online dating include:
Meeting people with the wrong intentions
Physical or emotional harassment
Being the victim of a dating scam
Violation of privacy
Catfishing, people exaggerating their dating profile, or lying about themselves
Safest Dating Apps
Many dating sites and apps have several features built in to help keep you safe. When you are out there matching with people, it is important to use a dating site that you trust and has these key safety features:
Photo verification
Ability to block and report users
Message screening – some apps can filter messages and even photos for inappropriate messages and images
In-app phone and video chat
Background checks
Many of the most popular dating apps such as Tinder, Bumble, Hinge, and more have these safety features built in. Every app works a little bit differently, so test a few out and find the ones that are right for you.
Is online dating worth it?
There are definitely pros and cons to online dating. It is helpful to think of dating platforms as tools for meeting people you would not have otherwise met.
Say, for example, that you went into a bar looking to meet someone. Some people in the bar could be the perfect match, some will be mediocre, and some you should stay away from. Dating sites are the same way. They are simply a medium, and you won't be led straight to your perfect match without some due diligence on your part.
Different people want different things out of dating apps. Some are looking for a casual fling, but there are also plenty of online daters looking for long-term relationships. Knowing what you want out of it can help you find better matches.
Benefits of Online Dating
Even though there are some risks to dating online, there are also a lot of benefits. There is a reason online dating is so popular! some benefits include:
It is really simple and easy to set up a profile and throw yourself into the dating pool
More opportunities for meeting people you wouldn't have met otherwise
It is easier to start chatting to people online versus approaching someone in real life
You already know that everyone on there is also looking for a match, as opposed to being in a bar and not knowing if someone is looking to date
You can set filters for age, location, zodiac sign, etc
Their profile will already give you some information about them, such as the type of relationship they are looking for
How many people use dating apps?
Worldwide, there are over 300 million dating app users. In the United States, that number is about 44 million as of 2020, and it is only going to increase. Online dating users have access to a huge pool of potential partners, which only increases their chances of finding a compatible match.
Safety Tips For Dating Apps
Follow these tips to stay safe when on the dating app:
Don't give out personal information too soon, such as your phone number, address, or place of work.
Be wary of people who pressure you to give out this information.
Keep messaging them in-app for a while. Many dating apps allow you to call, video chat and send voice messages right through the app. Should anything go wrong in those initial messages, you can always unmatch and report them if you need to.
Take the time to look through someone's profile. If all of their pictures are blurry or they don't really show themselves, that is a red flag.
Alternatively, photos that look too professional could also be a red flag. If you have concerns, you can always do a reverse Google image search to see what comes up.
After some conversation, hopefully, you will nail down that first date. Keep these tips in mind when you meet in person:
Agree to meet your date in a public space.
Keep the first date brief, maybe an hour or two long. Meet for coffee and go on a walk. If you like them, this will leave them anticipating the second date. If you don't like them, at least you have an easy out.
Share your location with a friend or family member that you trust. Set up a plan of action with them in case things go wrong
Stand by your boundaries. If your date is crossing them and making you uncomfortable, do not be afraid to leave.
People have different opinions about whether you should have someone's full name, phone number, place of work, etc by the time you meet for a first date. Exchange information when it feels comfortable to you.
When you do have their full name, do a quick Google search on them.
In Closing:
Online dating is a fantastic way to meet new people and potentially find 'the one'. Having access to a large dating pool will make it easier for you to meet people you are compatible with. Exercising some due caution will help to keep you safe and make sure you have an enjoyable experience. Online dating is, for the most part, safe, as long as you use these tips. For more dating safety tips, you can visit datingsafetytips.com.